7 November 2017, 15:00 – 15:45
For any System Administrators, IT Administrators, IT Engineers, IT Managers interested in the Backup topic
Outages and breaches are becoming more and more common and they are not going away. Companies that do not have a consistent data protection strategy can suffer badly when a problem occurs. All data protection strategies start first with the backup strategy.
All businesses differ when it comes to their backup strategy but all of them have something in common; RPO / RTO and cost.
Traditional backup solutions run on servers, those servers require storage and depending on backup times and data retention the cost can go up tenfold.
In this webinar we will discuss about how you can leverage Azure Backup, so you can better protect your business data while keeping costs low.
The webinar will be presented in Romanian.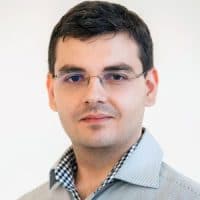 Florin LOGHIADE, is a Microsoft Azure MVP and Microsoft Certified Professional, and works as an IT consultant focused on Microsoft solutions based on Windows Server, System Center, Hyper-V, Azure and Automation. Florin's current main focus is implementing and managing on-premise and cloud solutions based on Microsoft Windows Server, System Center and Azure, eliminating all the tedious management tasks using PowerShell and PowerShell DSC.