Everything is customizable
With us, you can build your training from scratch because everything is customizable: the agenda, delivery period, course type, training level depending on participants' experience, technologies, and platforms.
Choose a training and customize it to meet your complex and diverse needs. When you have the right custom training partner, you get more than just a good training. Benefit from great flexibility while building, scheduling, and delivering the training.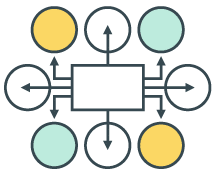 Classes held at your facility
Led by one of our expert instructors
Get hands-on learning through presentations, demonstrations, and hands-on exercises
Choose from a variety of our on-site training courses
Training can be either full (8 hour) or half (4 hour) day sessions
The on-site custom training is fully customizable to your needs, and we can adapt the curriculum to cover a variety of topics. Our trainers share the skills, knowledge, best practices, and the dos and don'ts, that you'll need.
On-demand Online Training
Attend training classes right at your desk
Led by one of our expert instructors
Get hands-on learning through presentations, demonstrations and hands-on exercises
Keep up with regular work—classes are only part-day
Ask questions and get answers immediately
Choose the training you need
Select from any of our courses to create a customized training program delivered at your company's site or online, anywhere in the world.
Banking and Financial Services
Design & Delivery Methods
Bird's eye view of Avaelgo Custom Training
1-3 Months before Training

Need
You let us know about your current need for a custom training (topic, target audience, desired dates)
Offer
We return with a tailored offer based on your needs, identifying the best agenda, training format (seminar/hands-on workshop), trainer and calendar dates we can provide

1-3 Months before Training

Refine
Our training experts will refine the agenda and suggest the proper format of the training. They might come up with possible suggestions to make your training even better. Once all agreed, we'll lock in place the agenda and all other training's details.
Training
The training gets delivered, all participants receive complete training materials and attendance diplomas


Feedback
We gather feedback from the attendees and share that with you
Get the training you need
Build a solid foundation that allows your colleagues to deliver their maximum potential!