26 February 2020, 14:00 -17:00
Pipera Business Tower, 8th floor, Bucharest
This workshop is designed for technical decision-makers, department managers, team leads, cloud architects, project managers and senior IT professionals (system engineers and developers).
AI, data and cloud are building up and upon each other the next wave of transformative innovations across industries.
With Azure AI, our goal is to empower organizations to apply AI across the spectrum of their business to engage customers, empower employees, optimize operations and transform products.
Register and join us to learn more about:
what Azure AI is
how it can help organizations
how to accelerate machine learning adoption
existing powerful integrations between Azure AI and Dynamics 365 & the Power Platform
uncover latent insights from content with knowledge mining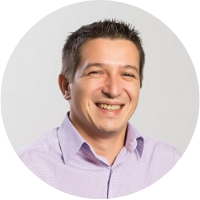 Radu Stefan is an Artificial Intelligence Business Consultant and a passionate futurist. He leads the Research & Development / Innovation department at Avaelgo. Currently, his research revolves around the ethics (and general business impact) of decisions taken or supported by Artificial Intelligence (sub)systems as part of his Ph.D. thesis. For the last decade and more Radu was working with Microsoft Romania in several roles, including Support, Consulting, Evangelism, and Business Development. As formal academic education, Radu graduated in 2016 the Executive MBA program of Vienna University and in 2004, computer sciences and communication engineering in Germany. Personally he lived and worked in Germany, Indonesia and Romania.