27 March 2019, 10:00 -12:00
Microsoft Romania, Piața Presei Libere 3-5, City Gate – South Tower, Sala Downtown 1, Bucharest
This workshop is designed for technical decision makers and senior IT professionals.
Whether you're new to Microsoft 365 and/or Office 365 or just want to learn how to take better advantage of them, this workshop is for you. Microsoft 365, Office 365… If you're thinking Wait – aren't those the same thing?, you're not alone. Confusing as it is, Microsoft has created 2 different product lines with extremely similar names. Each software is good for its own scenarios, but figuring out which is best for your business can be a real challenge. During the workshop, we'll break down the differences between Microsoft 365 and Office 365 and explain what does each offer specifically. You'll learn about the different plans so you can discover which plan works best for you.
09.45 – 10.00 – Workshop registration
10.00 – 10.30 – Office 365 Overview
10.30 – 11.15 – Microsoft 365: Windows 10 and EMS (Enterprise Mobility + Security)
11.15 – 11.30 – Break
11.30 – 12.00 – Office 365 or Microsoft 365? Which one works best for my organization?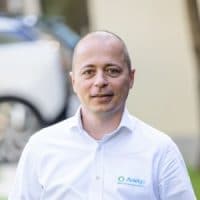 Daniel POPESCU is the Head of Avaelgo Managed Services department. He is responsible for leading, managing and developing the operations teams in our Managed Services Division including, technology implementations and pre-sales, 1st and 2nd line Services desk and Service Management.