What we can say for sure is that remote work is here to stay. So what does it mean to work in a modern workplace for you and your colleagues?
Nowadays, everyone expects to work securely from anywhere, on any device, with productivity tools that enhance the quality and effectiveness of their work experience.
Companies need to provide that empowerment, but they also need to protect vital IT assets. It's a fundamental operational change for your customers—and an opportunity for you.
With Microsoft Modern Workplace solutions, you can improve employee productivity and satisfaction, and create more seamless communication and collaboration across locations and platforms while maintaining the security and integrity of systems and data.
In this workshop, technical decision-makers and IT Professionals​ will better understand:
Simplify day to day work with apps & workflows
Sustain employee wellbeing & productivity
Manage and secure any device and user
Enable rich device experiences with Windows 10
With more pressure than ever to work remotely, join us for this 2-hour workshop to ensure your colleagues have the tools they need to succeed.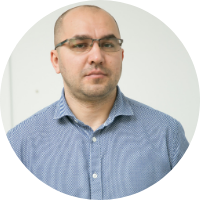 Alin SFREDEL
Cloud and DevOps Engineer | Avaelgo
Microsoft Certified Trainer for various technologies from Microsoft including O365, Windows Server, and Virtualization